A Family Saved from Terrifying Cruelty
Because of you, Emily, says she and her children are alive today.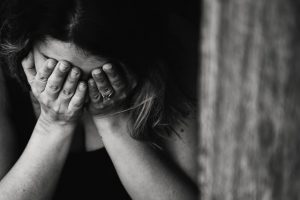 Emily had suffered terribly at the hands of her husband. He took twisted pleasure in strangling her until she passed out. He would dump cold water on her to wake her up and do it again. Repeatedly.
Emily feared for her life and was terrified he would do the same thing to the children.
She was embarrassed and filled with shame that she was in this situation. She blamed herself for allowing this to go on for so long. She was so scared and didn't know what to do.
But Emily found the courage to pick up the phone and call our Crisis Line because we have a presence in the community, thanks to people like you.
Your contribution helps build awareness so New Horizons is known as a safe haven for victims and their children who have nowhere else to go.
Thank YOU for making it possible to say YES when someone like Emily reaches out for help. You saved a family from terrifying cruelty.
It will take at least $200,000 to continue to provide our life-changing resources this year. Counting donations received to date, there is still a funding gap of $129,244. And we know the need is already greater, due to additional stressors that cause violence and abuse during this pandemic.
THANK YOU, if you've recently donated to New Horizons! Your generosity is helping victims like Emily.
Thank you for helping us to close the gap.
A gift of $15 per month can provide a real sense of safety for survivors like Emily. That's what it takes to provide one full day of our security system at shelter.
If a financial donation just isn't possible right now—we completely understand. 
Perhaps you have some items that you could donate from your home to help? We are open again for in-kind donations; however, we've changed the protocol. We're doing this in order to keep everyone safe and to stay organized, as we have VERY limited storage space.
We are requiring appointments for donations. This is to make for a safer and seamless experience for all. Please call (608)791-2610, ext. 1300 to speak with a volunteer to schedule one, if you have any of the items to help.
Here is the list of current needs for our shelter:
| | | |
| --- | --- | --- |
| Women's plus size clothing (summer only) | | |
| | | |
| Adult pajamas, robes & sweatpants | | |
| Digital oral thermometers | | |
| | | |
For more on donations, visit HERE.
THANK YOU for supporting victims of abuse in our community!