2019 Denim Day
April 24, 2019 - April 24, 2019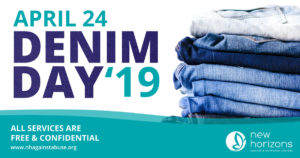 Denim Day is all about wearing jeans to support survivors and oppose the misconceptions that surround sexual assault and victim blaming. Denim Day started because of a ruling by the Italian Supreme Court where a rape conviction was overturned because the justices felt that since the victim was wearing tight jeans, she must have helped her rapist remove her jeans, thereby implying consent.
We are asking community members, elected officials, businesses and students to make a social statement with their fashion by wearing jeans on Wednesday, April 24, 2019 to show that support of victims and survivors who are dealing with the fallout of those misconceptions and carrying the heavy load of victim blaming.
You can do more by participating in, or hosting a Denim Day fundraiser that will support La Crosse and Trempealeau County Sexual Assault Awareness Month Scholarship and Events. For more information on how to do that–please contact our Sexual Assault Advocate at: (715)538-2810, or by email: sa@nhagainstabuse.org.