2020 Denim Day Scholarship
March 30, 2020 - April 30, 2020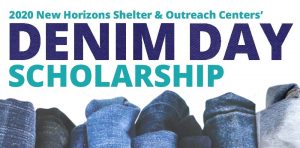 April is National Sexual Assault Awareness Month. In honor of Denim Day, which is Wednesday, April 29th, New Horizons is holding an essay contest where two students can each win a $500 Scholarship toward their education.
Not familiar with what Denim Day is all about? You can read more on that HERE.
And if you'd like to contribute financially to support the scholarship, please visit our Donation Page and be sure to mention that the funds are to support the Denim Day Scholarship Program.
Below are the full details of this opportunity for high school seniors in La Crosse and Trempealeau Counties. Be sure entries are submitted by the deadline of Thursday, April 30th.
Amount:

2 scholarships of $500 each

Eligibility: High School Seniors in La Crosse and Trempealeau County Schools

Length Requirement:

750–1,000 words

Deadline: April 30, 2020
Requirements
Scholarship will be awarded to one student contingent upon successful completion of one semester at a higher education institution. Check will be paid directly to that institution. The winning essays will be published in New Horizons' Summer Newsletter, online by the Wisconsin Coalition Against Sexual Assault, and excerpts from their essay will be published in local media.
Prompt
April is National Sexual Assault Awareness Month. At what age do you believe victim blaming begins to occur for children and youth experiencing sexual assault and gender-based violence, and what would prevention practices look like in your school or community? Please consider in your responses the recent studies about perceptions of innocence, sexualization of and disciplinary responses to children and youth in marginalized communities.
Submission
Essay is due Thursday, April 30th by 12pm. Essays can be written and submitted in English, Hmong or Spanish. Please submit via email to . To make other submission arrangements, please call our Sexual Assault Advocate at 608-386-6043.