#GivingTuesday
November 01, 2018 - November 27, 2018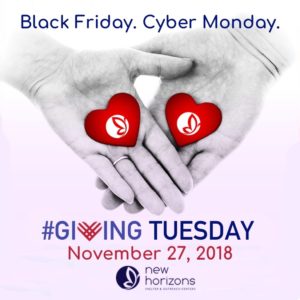 Black Friday. Cyber Monday. #GivingTuesday. The excitement of preparing for the holiday season fills many with the joy of giving to others–but not just family and friends. You can help others in the community who have unmet needs through #GivingTuesday with New Horizons.
#GivingTuesday isn't just another clever hashtag for social media. It's a real reminder of what the holiday season should represent: putting others before self. #GivingTuesday is an opportunity to do some good in your community by helping others in need.
New Horizons is hoping you will choose to help victims of domestic violence, sexual assault, and human trafficking by donating to us on (or before) Tuesday, November 27th–#GivingTuesday. We provide free and confidential services and supports to those victims, so whether it's continuing to staff our 24-hour Crisis Line, 365 days a year, or providing medical transportation, helping a victim to file a restraining order, providing shelter, clothing, or food–your donation will help victims get onto a path free of abuse.
Please consider giving to New Horizons this holiday season–or on #GivingTuesday. You can donate now, by clicking HERE.