Hearts and Hands for Hope Fundraiser
August 20, 2020 - August 20, 2020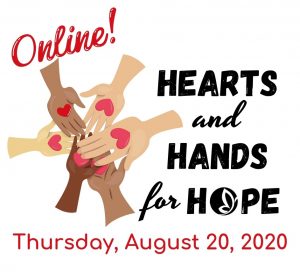 Since COVID-19 has thrown a wrench (again) into our fundraising efforts, we've had to get creative.
And what better way to get creative with fundraising, than tapping into creative souls around us to lend their talents?! We are blessed with so many amazingly talented people in the community! They are also very generous! Their hearts and the work from their hands will give hope to victims of abuse in our community through this fundraiser, which will be completely online.
Mark your calendars now for Thursday, August 20, 2020.
The cost to participate in this event is merely buying at least one raffle ticket at a minimum of $10. We'll have several desirable items on the raffle for you to choose from, in a wide price range, and we'll even have deals on multiples of three tickets for each item!
There will be amazing hand-crafted items for you to consider and perhaps place a bid on, come Thursday, August 20th. We'll be sharing photos and descriptions in the coming weeks.
So whether you enjoy the competitive nature of online bidding, or if you'd rather just buy some raffle tickets and wait to see if you won–we've got options for you! Either way, you'll be helping victims of abuse in our community!
Plan on joining us, Thursday, August 20, 2020–right here, online between 8am and 8pm!  
Please keep checking back for more updates on this important fundraiser for New Horizons!
And if you or someone you know is an artist and crafty–please get in touch with Patty Nuttleman, Development Director: (608)791-2610, ext. 1305  or email her HERE.