Victory Over Violence 2021
April 08, 2021 - April 08, 2021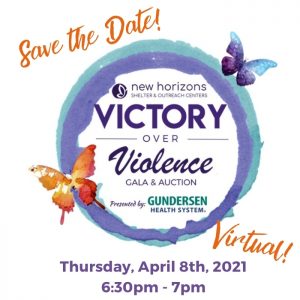 Your opportunity to join the Safety Net of Hope for survivors of abuse in our community is coming–Thursday, April 8th, 2021 from 6:30pm to 7pm.
In conjunction with the event, we'll have an online auction with many fabulous items that you can bid on–and more to be added yet!
Due to COVID-19 restrictions, we will be holding the event itself event virtually. We're going to keep it short and sweet–to respect your time–but still make it an event that will create a lasting impact for survivors of abuse.
CLICK HERE to register to join us for the live broadcast on Thursday, April 8th from 6:30pm to 7pm!
Our program will contain some powerful stories to better illustrate why it's so important for you to become a part of that Safety Net of Hope.
The event will be absolutely FREE. We don't want cost to be a reason for anyone to not attend this powerful half hour to help survivors of abuse.
Donations Will Be Matched
New this year–an opportunity to have your donation MATCHED! Thanks to the generosity of Roz Schnick, your donations will be DOUBLED–up to $5,000!! Roz is doing this in memory of those who have inspired her to do good in our community–her fellow Rotarians, Roger LeGrand and David Amborn–as well as her husband, Ronald. We cannot thank Roz enough for this incredible opportunity to DOUBLE DONATIONS! If you'd like to get onboard now to make a difference, you can donate now, by clicking the button below.

Please register NOW, and we'll be sending out the link for Virtual Victory Over Violence the week of April 5th. If you have any questions, please contact Patty via email.
THANK YOU TO OUR SPONSORS!