Al Louis' Rotary Musky Challenge
Posted: October 13, 2020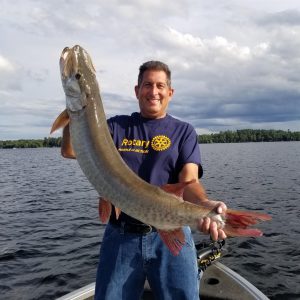 Thanks to tremendous support for Al Louis' Rotary Musky Challenge, over $40,000 was raised to help area non-profits, including New Horizons!
This amazing fundraiser will be helping non-profits during one of the most challenging years, due to the impact of COVID-19. Al Louis, a member of the Rotary Club of Downtown La Crosse has created and executed this fundraiser for two years now. The premise is that Al goes fishing up north on Lake Vermillion and people can pledge a donation per fish, per inch, or a flat donation.
Al caught a total of seven musky on his annual trip this year–and reeled in a total of over $40,000! A portion of the proceeds benefit the La Crosse Public Education Foundation, Meals on Wheels, The Family and Children's Center, and the Boy Scouts of America, with the majority of the funds going to New Horizons Shelter and Outreach Centers.
Thank you to all who supported the fundraiser, the Rotary Club of La Crosse committee for helping to organize it, and especially to Al Louis who was the driving force behind this amazing financial feat for good works!
The Supporters
Mike Nickels
Sana & Gibran Augustine
Mike Byrd
John Freeman
La Crosse Community Foundation
Vision Marketing Group – Tony Fiorillo
Designing Jewelers
Steve Lindeman
Wenberg Insurance Associates
Gary and Deanna Ihrke
Clason Buick-GMC
Tree Huggers Co-op
Scott and Therese Amundson
Brian Aronen
Roger and Pat LaRue


Bill and Tari La Rue
Gold and Coin Exchange – Robert Oberth
iCoin, Inc. – Steve Vesely
Randy Otto
Mary Beth Hensel
Michael Anderson
Dan and Val Johnson
Adam Reich
A1 Scranton Gold & Silver Buyers
Michael Strashnick
Frederick Coin Exchange
Milo Renberg
Mr & Mrs Ned Doolittle
Ron and Tawni Kind
Art Lyons
Jay Jaehnke
Frederick Bart
Dean Dickinson
Brian Knutson
Catherine Kolkmeier
Anne Snow
Rob Palmberg
Patricia Boge
Stephen and Susan Heuslein
Front Range Coin
Kenneth and Diana Stein
Daniel Wettstein
Jon Levendoski
Craig and Pamela Ubbelohde
Lynette Sheffer
Frank Greenberg, Inc.
Denice Geller
Dave Skogen
JG Numismatics
Sue and Mike Weidemann
Scott Horne
Peter B Spector
Brad N Lynn Sturm
Andrew Blinkiewicz
Innovative Graphics LLC
Tom Berkedal
Kathleen Van Kirk-Przywojski
Cynthia Taerud
Richard Spencer
Ashton Norris
Ilene Kernozek
James Lee Rasch
Rebecca and James Naugler
Gregory Curti
Todd and Eva Marie Restel
Bakalars Sausage Co Inc.
Festival Foods
Mary Stanek
Roz Schnick
David Stoeffler
Mark Jolivette
Mary Ann Gschwind
Sheila Riley
Thomas Knobloch
Mary Bubbers
Marissa Dickinson
Doug and Peggy Herlitzka
Jack Jefferson
Debra Warner
Jon Reynolds
Lee Iskowitz
Cindy Ericksen
Thomas and Debra Stowers
Nancy Mueller
Berkshire Hathaway HomeServices North Properties
Barbara Davis
Karla Stanek
Christine Engstrom
Hancock & Robinson CPAs
Frank and Ruth Vierling
James and Dorothy Sturmer
Funds through Rotary
Henderson Construction, LLC
Steven C. Mathy
Maureen Freedland
Mike & Sheri Van Natta
Jack Haase
Teresita Yutuc
Rita Schuman
Joseph Carlson
Steve O'Malley
Tim and Sue Durtsche
John & Linda Lyche
Roger & Kenna Christians
Jodi Widuch
Holmen Locker & Meat Market
John Moore, DDS, S.C.
Kyle Mihalko
Gerard O'Flaherty
Riverfest Commodore Foundation
Sun State Collectibles
Sally Sullivan
John Matausek
Kathy Danaher
Andrew Freeman
Steven Tope
Jon Levendoski
Jason Wrasse (UCJ)
Lorna Turner
Jimmy Zengg
Gary Demro