Holmen Youngster Pays It Forward
Posted: December 7, 2018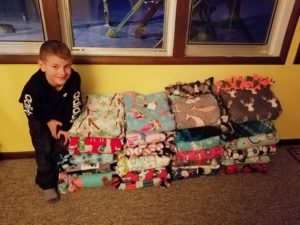 The seeds you plant in children can bloom into amazing kindness that spills out into this world filling it with love and compassion. During this time of year when hearts are full with the spirit of giving, one little boy ignites goodness in others through the memory of another youngster.
Carter Fay is a third grader at Prairie View Elementary in Holmen. This amazing nine-year-old boy just donated two dozen hand-made fleece blankets for children that are in the shelter at New Horizons.
His mother, Kristen says that a few months ago Carter and his younger brother, Lucas learned to make fleece blankets. Carter thought it would be fun to make blankets for other people–those who might not normally get "really neat, new stuff." Kristen immediately thought of New Horizons to be the recipient and we are so grateful for that, because these blankets have an amazing story attached to them.
The boys' cousin Bo died unexpectedly in 2016 at the age of just 20 months. Bo was such a happy, little guy that brought joy to everyone he met, so the Fay family thought, "how can we help to continue to spread this joy?"
Random Acts of Kindness–Fay Family Style was born.
They have little cards printed up with Bo's photo on them, explaining the story of spreading love through helping others. And the Fay family practices this ritual of love and kindness frequently–with the latest example being these two dozen blankets with incredible designs on them–that every kid who receives one at shelter is sure to love–pink unicorns, baseballs, teal blue mermaids, adorable dogs, and so much more!
"They're all made with fleece and love," says Carter as he touches one pile of neatly folded blankets in playful prints.
It was all thanks to the cash donations from friends and family who answered the call to help that Carter was able to purchase the fleece to make the blankets. Carter and his brother, Lucas even donated all of their savings ($50) to put toward the project!
There will be plenty of warm snuggles with these amazing blankets "made with fleece and love" for kids who are at New Horizons Shelter.
And just like that, a nine-year-old boy renews your faith in the spirit of love and kindness. New Horizons is eternally grateful to Carter for sharing his talents, to his brother Lucas for assisting with the project, and his parents who have instilled such admirable qualities of goodness into their boys.
Now go spread that spirit of giving in the name of Bo Redfield, cousin to Carter and Lucas–and inspiration for their random acts of kindness in the community.