Matching Funds on Giving Tuesday
Posted: November 12, 2019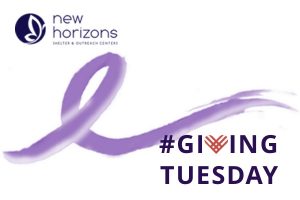 This Giving Tuesday will be DOUBLE the impact for New Horizons, thanks to Matching Funds being provided by La Crosse Community Foundation!
There's Black Friday, Cyber Monday–and #GivingTuesday… a time when you're able to open your heart to help others in the community. And thanks to La Crosse Community Foundation, your donation on Giving Tuesday to New Horizons will be matched! There will be a special link provided on Giving Tuesday–December 3, 2019 through the La Crosse Community Foundation that will allow the matching funds to be activated for New Horizons.
Who doesn't love seeing a donation DOUBLE?!
The funds raised during Giving Tuesday will help New Horizons to continue to provide shelter and services to members of the community. We are more than a shelter. New Horizons staffs a 24-Hour Crisis Line. We offer support groups; we provide a wide array of advocacy to help victims of abuse navigate situations they are facing—whether it be legal issues like needing a restraining order, or trauma counseling to help recover from abuse, just to name a couple. You can see the full listing of the free and confidential services and supports that New Horizons provides HERE as well as the impact we've had in the community.
It's important to note: Your donation will only be matched when it is made on Tuesday, December 3, between 12:00am and 11:59pm using the La Crosse Community Foundation donation link.
Please give a "Like" or "Follow" to our New Horizons Facebook page too!
We're so excited to have you be a part of the magic that is Giving Tuesday and help us to maximize this opportunity to have donations matched, thanks to La Crosse Community Foundation! Please help to spread the word by sharing the Facebook posts and even this webpage to those in your network of friends. Thank you in advance for your consideration in helping to support New Horizons!