Salon Professionals Helping Survivors
Posted: October 21, 2020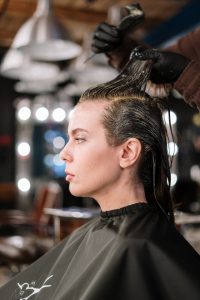 Salon Professionals are often a caring ear for their clients. They become a trusted confidant for their clients. This can sometimes mean they are hearing about situations like domestic abuse. New Horizons is offering a FREE and virtual educational seminar on Domestic Abuse for hairstylists and barbers to help them effectively become the bridge between their client and receiving help in their abusive relationship.
Imagine being able to not only make a client feel good on the outside–but on the inside too, because you cared enough to connect them to the help they need.
If you or someone you know works in the salon field and would benefit from being able to have the tools in their toolbox to help get a survivor of abuse pointed in the right direction for receiving help–please share this opportunity with them.
CUT IT OUT
A national program, called "Cut It Out" builds awareness of domestic abuse and educates salon professionals to recognize warning signs, respond appropriately, and safely refer clients to local resources, like New Horizons who can help them. The program will provide the tools needed for salon professionals to be confident and effective in assisting individuals to get connected with the help they need in an abusive relationship.
There is ONE virtual opportunity left for this important training:
Thursday, November 19th from 7pm to 9pm
Please contact Rosanne at (608)791-2610, ext. 1309 for more information or to RSVP for one of the training dates. 
CUT IT OUT is made possible through a partnership with Clairol Professional, The National Cosmetology Association, and Southern Living at HOME.