Two-Time Food Network Champion to Contribute Talents
Posted: February 15, 2019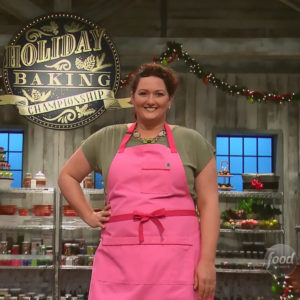 The two-time Food Network Champion, Jen Barney of Meringue Bakery will have one of her delicious cakes on the auction block at Victory Over Violence–the largest fundraiser for New Horizons Shelter & Outreach Centers, slated for Saturday, March 23, 2019 at the Cargill Room in La Crosse.
Jen, who resides in Stoddard with her family, made headlines when she wowed judges on Season 4 of the "Holiday Baking Challenge" on the Food Network with her detailed, creative, and delicious cakes–ultimately taking the title of champion. She returned to the Food Network for a reunion of champions who all squared off again and handily won that competition as well.
New Horizons is proud to have one of Jen Barney's fabulous cakes on the auction block to help raise money during "Victory Over Violence," and we invite you to purchase your tickets now so you can join in the fun–and maybe score the winning bid on the delicious cake! There are a number of other items that will be on the auction, and we're adding more each week. For tickets and more information–CLICK HERE.