You Hold the Key to Help Human Trafficking Victims
Posted: May 1, 2019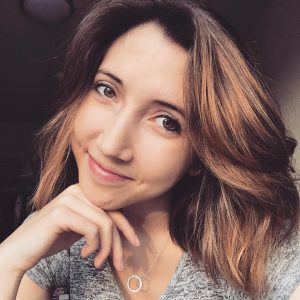 When someone's eyes have been opened to a revelation and the fire catches inside—their passion can become contagious to others. That is exactly what happened for Maddie Adickes, a Viterbo nursing student and 2018 Miss Onalaska–and 2019 First Runner-Up for the Miss Wisconsin title.
Two years ago, Adickes was at an event and heard a speaker from Exodus Road talk on Human Trafficking; how it's happening right here in our own backyard—in plain sight.
The fact that the average age of those who are trafficked for the first time is 11 to 14 years-old struck her hard; they're just kids. "They're a vulnerable population and we all need to recognize their humanity," Adickes says.
While pondering what she was doing at that age in comparison to what those children who are trafficked are enduring, a very unsettling feeling came over her. It was that gnawing in the pit of her stomach that became the driving force behind using her desire to educate others and bring more awareness to this growing issue in communities.
Last year, Adickes was crowned Miss Onalaska 2018. The new role has provided her with an excellent platform to spread the word about Human Trafficking in an effort to open the eyes of others to be aware and do something.
Human Trafficking is a $150-billion industry and is the third largest criminal enterprise in the world. Every day, millions of adults and children—men and women are sold. They are controlled against their will through force, fraud, or coercion for the intention of engaging in commercial sex acts or labor services. It happens right here in our community.
Monta Groce of Sparta Wisconsin was convicted by a federal jury of three counts of sex trafficking, one count of conspiracy to engage in interstate transportation for prostitution, and many other charges. An assistant U.S. attorney who prosecuted the case called Groce, "probably the most violent trafficker I have encountered."
Don't kid yourself. It happens right under our noses. The key is to become more aware of what's going on around you and speak up when you see something that doesn't seem right.
What is the right way to speak up with this type of situation?
If you see something you should always let somebody know. It is generally not safe for you or the potential victim to approach the situation, so call the 24/7 National Human Trafficking Hotline at 1-888-3737-888. They will help you decide what the next steps should be and even contact local law enforcement for you if needed.
If you are concerned about a family member, friend, or yourself, feel free to contact New Horizons' 24/7 crisis lines in either La Crosse or Trempealeau Counties. We can help talk you through the crisis, safety plan, find resources, and connect you with an experienced advocate to help you further if needed. Additionally, you can always call 9-1-1 if someone is in danger, or the non-emergency dispatch number (La Crosse: 608-785-5962).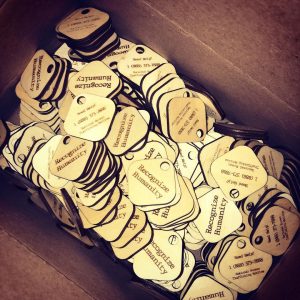 Adickes has come up with an idea to get help to victims. She has been selling keychains that are designed to raise awareness and provide the National Human Trafficking Hotline number for victims to call to get help. Proceeds from the keychain sales and additional donations will go toward the Survivor's Fund at New Horizons Shelter & Outreach Centers.
You can purchase a keychain for just $2, and for an additional 50-cents, it can be mailed to you. Learn more about this project that is being led by Adickes HERE.
As a nursing student at Viterbo—Adickes says she feels like it's the perfect career for her—to combine her love of science with her compassion for people. She just really wants to make a difference in the lives of others and plans to stay focused on nursing and human trafficking after graduation.
She competed in the Miss Wisconsin competition this past June, finishing in the First Runner-Up position and had the opportunity to share the message about Human Trafficking in the hopes of opening more eyes to this problem that exists in plain sight in our communities.
New Horizons congratulates her on the strong finish in the competition, and thanks her for helping to spread the word of this very real issue—Human Trafficking by using the platform she is given through the scholarship pageant to promote awareness of it.
Learn more about Human Trafficking and Exploitation and read through some of the Myths and Facts of Human Trafficking, by clicking the links.