Hearts and Hands for Hope Fundraiser
August 20, 2020 - August 20, 2020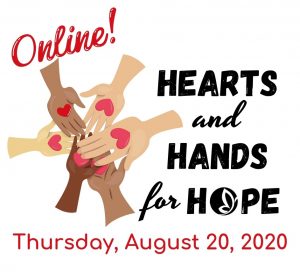 THANK YOU to everyone who purchased a ticket or placed a bid during our fundraiser. You're making a difference by giving hope to victims of abuse in our community!
If you missed out on participating in the event–you can still make a donation HERE.
Everyone who purchased a ticket was put into a drawing for door prizes. Below are the prizes and the person who was randomly drawn for each prize. Congratulations to all of our winners–and thank you to EVERYONE who helped us raise over $2,000!

All door prize winners will be notified via email and/or phone call. If you haven't heard from us yet–we will be reaching out to you asap! THANK YOU again for your support of victims of abuse in our community!