A Memorable Mother's Day for Pam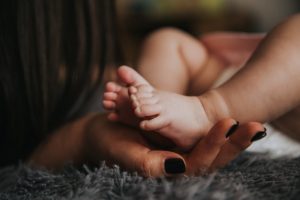 If you were among those who made a gift to New Horizons recently—THANK YOU!
You're helping us ease the pain of a mom who has suffered for a long time.
This sure isn't the Mother's Day that Pam thought it would be. She and her children are spending it at our shelter.
We all have our breaking point. For a mother, it often surrounds her love for her children. That was the case for Pam.
She had endured years of abuse from her husband. Her young son tried to help her while she was being pummeled by her husband's fists. She couldn't stop his rage as he turned and struck their 6-year old in the chest, knocking him to the floor. The fear in her young son's eyes pierced Pam's heart.
That was the moment that Pam knew this HAD to stop.
Because of you, we are able to provide shelter, food, and SAFETY for Pam and her children.
But speaking to you as a friend, we're a little worried.
Because of the coronavirus, the United States Postal Workers had to cancel their annual food drive. New Horizons normally receives 6,000 pounds of food from this community effort each year.
That stocks our shelves and makes it possible to take care of people like Pam and her children while they get back on their feet.
We know that in this time of a health pandemic, there are more stressors that cause violence and abuse and we need to be there for the people that are going to be calling on us.
While we fully intend to continue to provide life-changing resources to victims of abuse like Pam, we really need your help to make sure the supports they need are there.
It will take $200,000 to do it this year. Including gifts received this past week, we still have a gap of $139,813 to fill.
If you haven't yet—now is a great time to make a difference.
Your gift of $25 per month will provide one week of groceries to feed a family like Pam and her children at our shelter.

Thank you for becoming part of the safety net and hope for people like Pam.
And if the time isn't right for you to give–we understand.
How about sending an anonymous card of encouragement to the survivors like Pam who are working so hard to overcome challenges? Your kind words will make their day!
You can drop a card in the mail at this address:
New Horizons Shelter and Outreach Centers
PO Box 2031
La Crosse, WI  54602-2031
Whether you make a financial gift or write a card of support—THANK YOU for joining hands with us to help victims of abuse in our community, like Pam.
YOU are what making a difference looks like!