Crossing Paths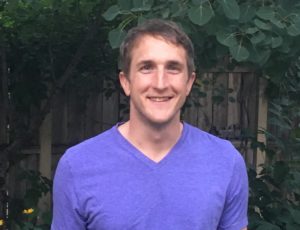 We recently bid farewell to one of our Resource Advocates, Kyle Marmesh who has gone on to the University of Minnesota to pursue his Master in Social Work. Kyle has definitely had an impact on the work we do at New Horizons with his knowledge, empathy, and willingness to roll up his sleeves to do the work necessary for success.
Kyle started working at New Horizons as a Crisis Advocate and says he will never forget his first night alone at the shelter as a part-time  Crisis Advocate. He was left in charge of the overnight operations and answering the 24-hour crisis line, when suddenly a woman burst into the office crying. She was a person of color in her late 50s, who had experienced violence from birth. She began to describe to Kyle unimaginable horrors that she had suffered as a young girl at the hands of her stepfather.
Kyle admitted he was frozen for a moment after the woman poured her heart out to him, seeking an understanding ear for comfort from whatever triggered the emotional overload she was experiencing. Listening is almost always the key in these situations, and that is exactly what Kyle did.
As the woman gathered herself a bit, there was an awkward moment of silence between the two of them and she said, "I don't know why I'm talking to you. You could never understand."
As a white man, who at the time was 21, Kyle understood exactly why the woman felt that way. He offered her a tissue and told her that she's right. He would never be able to fully understand what she had been through, but he was here to listen—and he wanted to understand and support her as best as he could. The words had a positive effect on the woman.
And that was the first time Kyle knew he was definitely on the right path in his career. It was a humbling experience, and it taught him the power of active listening and support.
All of the clients that Kyle has worked with are survivors of either domestic violence or sexual assault. A majority of them are homeless or on the verge of homelessness. Man education, and there are some who suffer from serious mental health struggles.
While Kyle has left to pursue his education goals, he will be returning to volunteer during Domestic Violence Awareness Month, and for our annual Victory Over Violence Gala next winter. He has definitely inspired others to be better at helping victims and survivors of domestic and sexual abuse. We have many advocates at New Horizons Shelter & Outreach Centers who strive to make a difference in the lives of those who need a hand up as they work through domestic violence or sexual abuse. They all pour themselves into helping victims and survivors; doing what they can with the resources we have available.
Resources are an important part of the puzzle to help empower people to put their lives back together after that kind of trauma. New Horizons turns your financial donations into building a path for those seeking to escape domestic violence or sexual abuse. Please consider making a donation to help New Horizons continue to serve survivors in the community.