Domestic Violence Awareness Month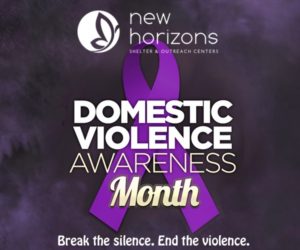 October is Domestic Violence Awareness Month (#DVAM) and it's a great time to tune-in to your surroundings and pay more attention to the little details in the lives of those you love.
Domestic violence is real and it happens in our community. Perhaps you have some ideas of who victims of domestic abuse are–check for yourself with these Myths and Facts about domestic violence.
Get informed about what abuse is.
Specifically, Domestic Violence.
Learn to identify the Signs of a Battering Personality, so that you and your loved ones are aware of the signs.
Most importantly, know that you are not alone, and that there IS help available. See New Horizons' full resource page HERE.
La Crosse County Crisis Line & Shelter – 24 hours
608-791-2600 (TTY available)
1-888-231-0066 (TTY available)
Trempealeau County Crisis Line – 24 hours
1-800-706-8586 (TTY available)