Escaping Abuse and Finding Shelter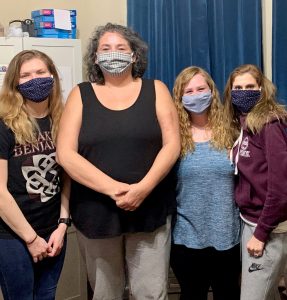 YOU make it possible for us to continue to provide food, shelter, and clothing for Karrie.
She's a 41-year-old who left her abusive partner in the middle of the night after suffering a yet another explosive and brutal beating.
While her partner was passed out on the sofa, she reached out to our Crisis Line for help.
Karrie left with just the clothes on her back. It's been a rough adjustment for her, but she's taking it one day at a time.
We will continue to provide services and supports for victims of abuse, like Karrie during this pandemic.
But in order to continue to provide these life-changing resources to victims it will take $200,000 this year. Including gifts received this past week, there is still a gap of $144,800 left to fill.
THANK YOU if you contributed recently to support victims of abuse in our community, like Karrie.
YOU are what making a difference looks like!
We know that in this time of a health pandemic, there are more stressors that cause violence and abuse and we need to be there for the people that are going to be calling on us.
If you haven't contributed yet, you still can!

Your gift of $50 per month will provide one night of shelter for a victim of abuse.
Thank you for becoming part of the safety net and hope for people like Karrie.
And if the time isn't right for you to give–we understand.
How about offering a simple "Thank You" to those we have serving on the front lines at our shelter?
Our Crisis Advocates have been sheltering in place AT our shelter with the victims of abuse that we are serving.
Can you believe that? They have given up their family time at home in order to better protect those that we serve at shelter.
One of our advocates brought her cat into shelter, which has been a nice addition for companionship and comfort. We've taken to referring to the furry one as our advo-cat.
If you'd like to send some encouraging words to our advocates, you can drop a card in the mail at this address:
New Horizons Shelter and Outreach Centers
PO Box 2031
La Crosse, WI  54602-2031
YOUR kind words could be the boost they need to keep going!