Making the Holidays Magical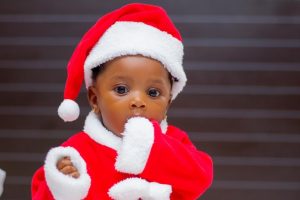 The holidays are always a special and magical time of the year; families come from afar to gather and visit, exchange gifts and sit together at the dinner table to eat Dad's special cooked ham or Mom's famous turkey. Rooms are filled with Grandpa's stories and giggles from the children. "T'was the Night Before Christmas" is read on Christmas Eve while the scent of chocolate chip cookies drifts in the air.
For the residents and clients of New Horizons, Christmas looks and sounds quite differently.
We have a wonderful Holiday Program which highly relies upon the communities that we serve. Residents of both La Crosse and Trempealeau Counties have been extremely generous in contributing to our winter festivities. Las year, because of our kindhearted donors, New Horizons was able to provide Christmas gifts to 176 women, men, and children who experienced domestic abuse. Of those 176 people, 123 were children, 51 were women, and two were men.
Staff and volunteers had the amazing opportunity to be present when both shelter residents and community families received their sponsored gifts. The appreciation was visible as some individuals cried happy tears and others hugged and offered enthusiastic thank yous. The gratitude radiated to the sponsors who graciously donated their time, money, and resources to get the gifts for the residents and families. The gratitude was striking.
After the holidays were over, we forwarded many thank you cards from the recipients of our Holiday Program to the donors. In return, donors would call to thank us for the opportunity to give to those in need.
In addition to the gifts, each year the staff at New Horizons makes an attempt at giving the residents a sense of normalcy. We hang lights, put up a tree… everything we all do in our own homes. However, this last winter the shelter experienced a fire, which led to smoke damage in our attic where all of our holiday decorations were kept. As a result, our holiday decorations are now very limited and we do not have everything we need to spread the joyful, holiday spirit around our shelter. For this reason, we have additional needs from donors this year in order to maintain the magical ambiance we have created in the past. Our needs include:
Staircase garland
Festive placemats or a table runner
Stockings and hooks
Menorah and candles
Shatter-proof ornaments, bulbs
Pie makers
Wrapping paper, gift bags, and gift tags
Door or wall hangings and/or window decals
Foyer snowman scene
Tree skirt and tree star
Inside tree lights (traditional colors)
Tinsel garland for a tree
Each year, we at New Horizons Shelter and Outreach Centers are grateful for our supportive and giving communities in both La Crosse and Trempealeau Counties. We continue to ask you for your support during the holidays so that together we can continue to provide a better holiday to persons and their children who are tragically affected by domestic violence. Here are other ways that you can contribute to families in need during the holidays:
Sponsor a Family
Donate Unspecified Gifts
Monetary Donation
Gift Cards
Host a Drive
To help our families, or if you have any questions, please call our Youth and Family Advocate at (608)791-2610, ext. 1203.
Thank you!