2023 Holiday Program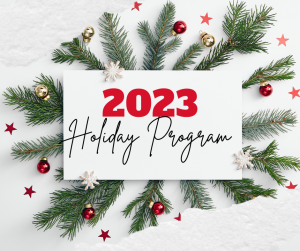 Every year, we provide an opportunity to bring joy to a family that's holiday season looks and sounds a little different. Through our Holiday Program, our shelter residents and community families who have experienced domestic abuse are able to have some normalcy during the holidays through gifts donated by generous sponsors.
In 2022, we were able to provide 150 women, men, and children with the joy and hope that comes with these gifts! Whether you are participating with coworkers or with family, this program is a great opportunity to start a conversation about domestic violence and how it affects individuals in our community. It allows you to show survivors support during an often challenging time of year.
Ways to contribute:
Sponsor an individual or family: We sit with our clients and create a detailed wish list with them. We give sponsors the wish list, in which you decide how much or how little you would like to purchase. The list is a guide for you to get to know their needs and wants. Clients are folks we've served in the last year and could be living in either the shelter or in the community.
Host a giving/caring tree: We have created our own wish list of items that are always needed as well as ideas of gifts that we can give to families who come into our shelter at the last minute and didn't get sponsored.
Cash/Gift card donation: gift cards can include gas cards, grocery cards, gift cards for retail stores, haircut certificates, movie passes, or any family fun activity you can think of.
Please use the form below to register for our 2023 Holiday program!
2023 Holiday Program
Sign up to become a sponsor for our 2023 holiday program!